CTI Veteran Q&A Series: Robert Sweetman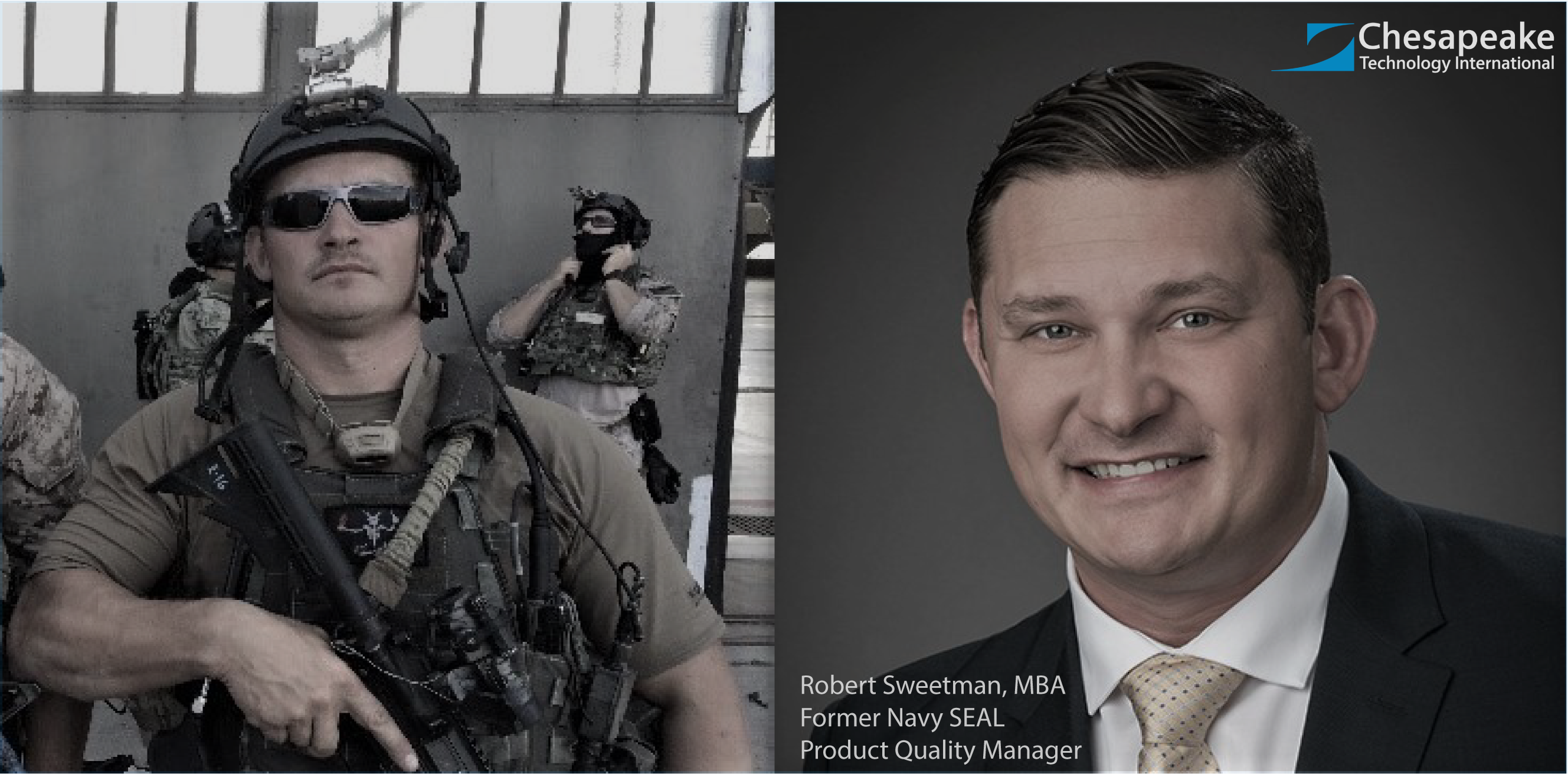 Robert Sweetman is a retired Navy Veteran and is currently leading the CTI QA team as the Product Quality Manager. Here is an exclusive Q&A with Rob where he talks about his background in the military as a Navy SEAL and why CTI was a good fit for his post-military career.
Give us some background and a summary of your military experience: At nearly 30 years old, I had lived a frivolous life of business and travel and was turning a page to a new chapter. I felt like I needed to give back to the world that had been so generous to me. In 2009, I decided to pay my dues to this country by way of the military. I originally enlisted in the Marine Corps to be an 0300 rifleman and hopefully have the opportunity to become an 0321 Reconnaissance man. This would provide me the chance to be on a Force Reconnaissance team; something few people have done. As it turns out, I was denied by the Marine Corps for clerical reasons.
I decided to speak with a Navy recruiter, who gladly greeted me. They were offering a SEAL contract, but I needed to swim, run and perform at an accelerated level. Never having learned how to swim, I was curious if the role was the right for me. I took the Performance Fitness Test (PFT) and forced my body to complete each exercise at an accelerated level. I signed a SEAL contract with the Navy in July of 2009, which put me into a Delayed Entry Program (DEP). All the "DEPpers" met weekly to exercise and learn from our SEAL Motivator, "Doc Hooks," former SEAL commander.
In February of 2010, I shipped off to basic training in Waukegan IL. It was six weeks of sickness and sleep deprivation (probably much like life on a Navy ship). We were in a "100 division" for Special Forces recruits, so they woke us up a few hours early for water skills. After basic training, we all had to make it through several phases totaling around two years to become a SEAL. There were Pre-BUD/S in Waukegan; Indoctrination in Coronado, CA; BUD/S 1st Phase; BUD/S 2nd Phase, BUD/S 3rd Phase; and SEAL Qualification Training (SQT). During each phase, there were dozens of test gates: physical, psychological, and social. If a recruit were to fail any one of these test gates, they would go away: either to the fleet or out of the Navy all together. I passed all gates.
Between 2012 and 2016, I served at SEAL Team Seven. I completed two cycles: one with Alpha platoon deployed to the Emirates off the coast of Iran and one with Echo platoon to Iraq. I specialized in intelligence; specifically, human intelligence (HUMINT) and source handling. My interests were in electronics and surveillance and after I passed the Tactical Surveillance Operations (TSO) course, I began developing technology solutions for my SEAL platoon. Part of this was finding the people with new technology and teaching it to my platoon, yet, some of it was custom circuit building and programming. I received an award for this effort.
During the last two years of my career, between 2016 and 2018, I served as an instructor for the TSO course. I developed a two-day course based on Commercial off the Shelf (COTS) items that could be easily procured and used to accomplish the mission. This later became the model for the entire course and shifted the curriculum to teach COTS only. Because of this impact, I have an open invitation to come back and teach.
Why did you decide to transition out of the military? In February of 2018 I was medically retired from the Navy due to injuries sustained in the line of duty. It was better that I left as my condition was getting worse. I will always miss the brotherhood and the excitement. 2018 marked the next chapter in my life.
Why did you choose CTI? In a way CTI chose me, however, I decided to join because of John Goodson. I was impressed with the results he was able to achieve at the first Rapid-X convention. From there I met Steve Turner, Dustan Hellwig and many others. CTI seemed like a good group of people. Furthermore, government freeware for all military forces seemed like a good mission. When I saw the opportunity to make an impact in the lives of my past military community through CTI, I thought this would be a worthy cause for this chapter of my life.
What are you currently working on at CTI? And how does your past experience in the military contribute to this? I am the Product Quality manager at CTI. I work to ensure the products leaving CTI are of the highest quality leading to a greater mission effectiveness for our warfighters. I use what I learned in the SEAL teams everyday to influence how we approach software testing and user interfaces. I know the pains of using things on deployment that don't work well. That knowledge drives me to ensure we don't release products like that.
From your perspective as a veteran, what is your opinion of CTI's approach using GOTS and open software solutions? Do you think it is or could be impactful to active duty personnel? Government off the Shelf (GOTS) software is the only sustainable solution for the US military. While the research labs within the DOD create some pretty cool stuff, having a defense contractor, CTI, that houses the best software developers in the business, building GOTS solutions for the military is a game-changer. CTI is changing the way all defense contractors do business by breaking the mold of "proprietary" licenceware. We at CTI are building software that any government approved person can use today; with no barriers to entry. This model will, and already is, changing the world.