CTI Veteran Q&A Series: Benjamin Washington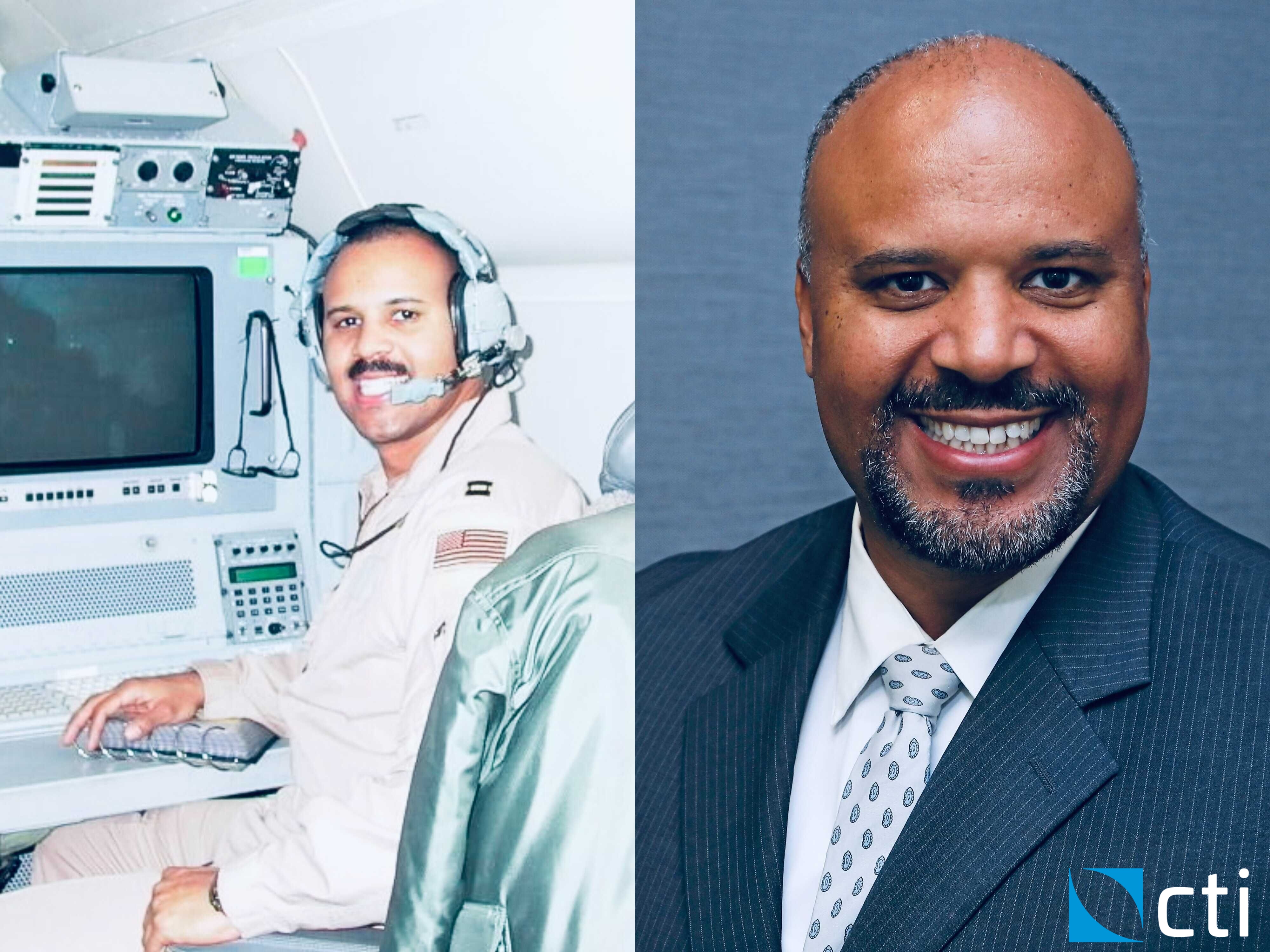 Give us some background and a summary on your military experience: I grew up as an Air Force brat, even though I was born in a Naval Hospital (U.S. Naval Base, Philadelphia, PA). When my father retired, we never really lived far from an Air Force base (physically or psychologically). So, when I graduated High School, I enlisted into the U.S. Air Force, in late 1987, to become a C-141B Starlifter Aircraft Loadmaster, a natural fit for me.
My enlisted tour '87-'91, saw many interesting world events unfold. While conducting strategic airlift as a C-141B Loadmaster in the 22nd Air Force, 63rd Airlift Wing, 15th Airlift Squadron, Norton AFB, San Bernardino, I flew combat support missions during Operation JUST CAUSE (the capture of Panamanian dictator Manuel Noriega), 1989. And, of course, in '90-'91, I participated in Operations DESERT SHIELD & DESERT STORM. After DESERT STORM, I returned to Norton AFB to upgrade to airdrop qualification.
After completing my enlistment, having accumulated 2,000+ hours in the C-141B, I separated from the Air Force to pursue a college degree, full time. In 1998, after earning a masters degree in national security studies from California State University, San Bernardino, I applied to Air Force OTS and was commissioned a 2nd Lieutenant in 1999.
Not wanting to do anything but fly, in the Air Force, I became an Air Battle Manager, one of the Air Force's three rated-officer specialties (Pilot, Navigator, Air Battle Manager). After completing Undergraduate Air Battle Manager Training in the 325TH Fighter Wing, 325th Tactical Training Squadron, Tyndall AFB, my first operational assignment was as an E-8 Joint Surveillance Target Attack Radar System (JSTARS) Air Weapons Officer in the 8th Air Force, 93 Air Control Wing, 12th Air Command and Control Squadron, Robins AFB, GA, where I also served as Squadron Executive Officer (Adjutant, not "XO" in the Navy sense).
In so far as the 93rd Air Control Wing was concerned, Al Qaeda couldn't have picked a worse day to carry out their terror attacks. We had just successfully completed an Operational Readiness Inspection, the previous week and were as primed for war as we could ever be. On Tues. morning 9/11/01 my crew was mission planning to fly a training mission when the hijacked planes struck, we watched it all unfold on the squadron's television screens. We stood down for a few weeks, while our National Command Authorities deliberated on a plan of action. And when the "balloon went up" we deployed down-range to conduct warfare in Afghanistan. After flying Operation ENDURING FREEDOM combat sorties in the SWA AOR, I returned to Robins AFB to upgraded to Sensor Management Officer in the JSTARS weapons system; after which I returned to the AOR to fly combat sorties in Operation IRAQI FREEDOM.
In 2003, I received PCS orders to Geilenkirchen NATO Air Base, Germany where I transitioned to the E-3 Sentry Airborne Warning and Control System (AWACS), as a Passive Controller (Electronic Combat Officer (ECO)), in NATO's sole Airborne Early Warning Wing, Squadron 2. Though living in Nordrhein-Westfalia, Germany was the experience of a lifetime, civilian life beckoned me.
Thus, in August 2007, after twelve years of Total Active Federal Military Service, having served under four U.S. presidents (including Ronald Reagan), having served during every major U.S. conflict since 1989 (except for ALLIED FORCE, because I was in college) and having accumulated 4,000+ hours in various U.S. Air Force heavy aircraft, I turned the page, resigned my commission and returned to southern California to begin the next chapter of my life.
Describe your experience transitioning from Active duty: A Junior Military Officer headhunting agency made transitioning from the military to the private sector easy. Upon separating from the military, I was recruited into Rockwell Collins, Inc. a Fortune 500 aerospace company with two divisions: government and commercial, whose core competency was in avionics, communications (Neil Armstrong's "One small step…" was transmitted over a Collins radio) and electro-mechanical systems. I became a Senior Product Support Manager in Collins' commercial Air Transport Systems business unit. 8 years later, I transitioned to Collins' electro-mechanical systems business unit; and in 2019, Collins divested this business unit to Safran Electronics & Defense Avionics USA, as a regulatory condition of UTC's $30B acquisition of Rockwell Collins. After 14 years, holding positions of increasing responsibility in Rockwell Collins and later Safran, I left Safran as a Program Manager III, in the summer of 2020.
Why did you choose CTI? I chose CTI because CTI's value proposition was unique among government contractors. A) CTI is a small company; and I had the itch to join a small company, as a departure from the vast monolithic enterprise that was my former Fortune 500 company. B) CTI is veteran-owned; and after exploring the backgrounds of the many veterans who comprise CTI, I knew that I would feel instantly at home here. C) The CTI team feels more like a family than a corporation. From my first interview, to this very day, I didn't feel so much like I was joining a new company—but rather like I was being welcomed home.
What are you currently working on at CTI? And how does your past experience in the military contribute to this? I'm currently the Program Manager for: Airborne Electronic Attack (AEA), Electronic Warfare Services Architecture (EWSA), Test Flight Playback Tool (FPT) & the prospective High Capacity Backbone (HCB) & Joint Electromagnetic Preparedness for Advanced Combat (JEPAC) programs. My past military experiences translate well to my role in CTI's defense programs, in so far as the electro-magnetic spectrum, RF energy and electronic warfare were core competencies of my Air Battle Manager Air Force specialty. Moreover, the DoD way of working, military ethos, camaraderie and military technology are all near/dear to my heart—and the center of my entire life.
From your perspective as a veteran, what is your opinion of CTI's approach using GOTS and open software solutions? Do you think it is or could be impactful to active duty personnel? Why and how? To be honest, I found CTI's approach to developing business in the COTS/GOTS realm to be unique. At first, I was puzzled by CTI's business model. But as I grow in the company, I realize how valuable CTI's approach can be to the warfighter. In the fighter plane community, "speed is life." This axiom holds true in many other specialties within the armed forces as well. The speed with which we provide technological solutions to the warfighter can mean the difference between accomplishing a mission or scrubbing it. CTI is a disruptor in the defense contracts industry—and I like that—not just because I work for CTI—but because I'm a tax-paying citizen—who sees the value in CTI's cost-saving approach to doing business.