CTI Veteran Q&A Series: Brian Richardson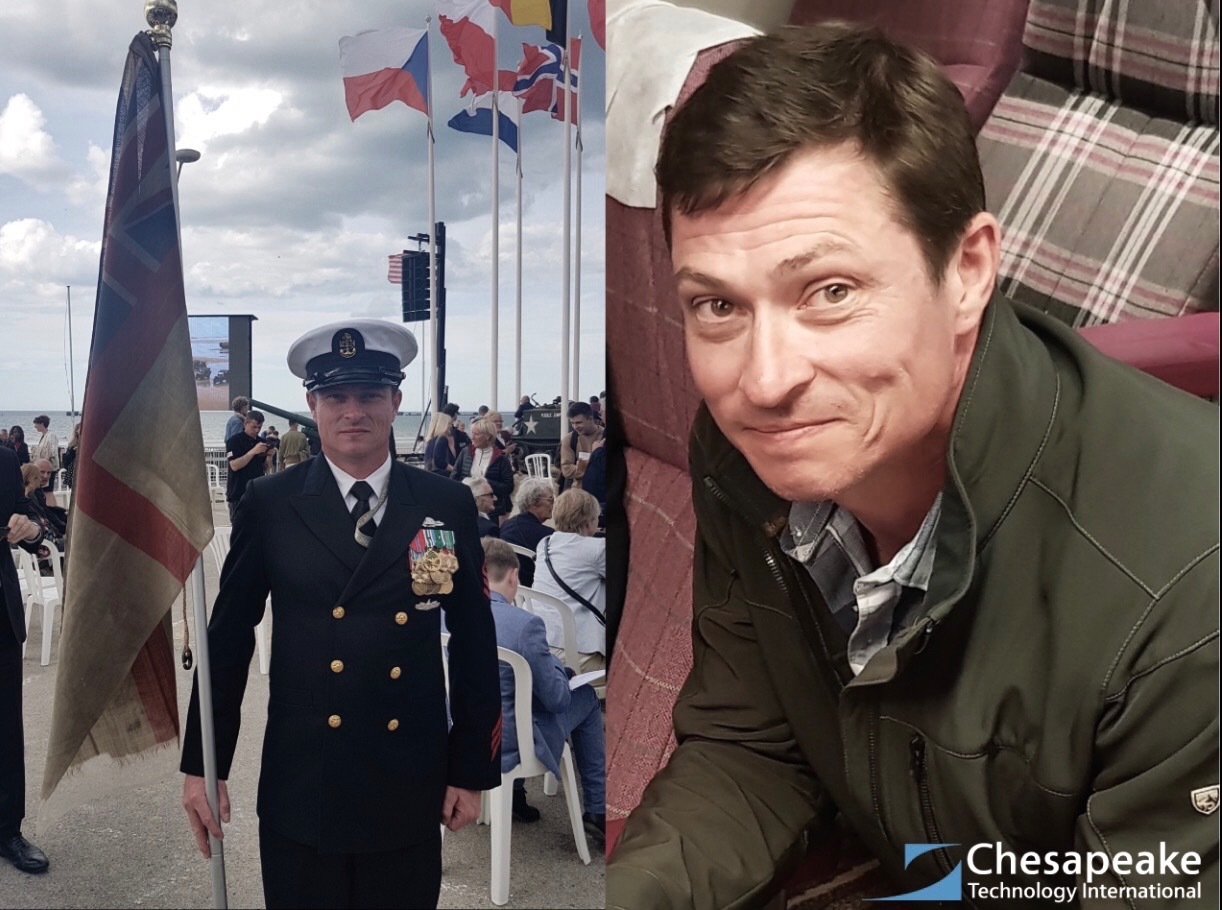 Give us some background on your military experience: I joined the Navy in 1992, attending both boot camp and Nuclear Electronics Technician "A" school in Orlando, FL. After it was determined I did not have the aptitude to be a Nuclear Reactor Operator, I was awarded the title "nuke waste" and reclassified in 1994 to Cryptologic Technician Collections (CTR), attending manual Morse training in Ft. Devens, MA and non-morse training in Pensacola, FL. I continued in this capacity, serving at NSA in Ft. Meade, MD as a non-morse operator until transferring to the USS Cushing in Pearl Harbor, HI. I then transferred to the USS Fife in Everette, WA, conducting one counter-narcotics deployment. I was then gifted orders to NIOC Harrogate in Menwith Hill, England where I served in the New Mission Development Center as a signals analyst. I was also lucky enough to be selected by the Navy to serve on the Royal Navy vessel HMS Glasgow for a 4-month signal survey off the coast of Africa. After my overseas assignment, I was given another gift, orders to NIOC Denver at Buckley AFB, CO. Not only did I fall in love with CO during this tour, I was also given the opportunity to volunteer for a deployment supporting SEAL Team 10 in Afghanistan, introducing me to both Naval Special Warfare (NSW) and tactical information operations. Still in CO, I later volunteered, and was selected, to support the counter-IED mission in Iraq where I served as a Counter Radio-Controlled Improvised Explosive Device Electronic Warfare (CREW) operator under the Joint Composite Counter-IED Squadron ONE (JCCS-1) command for a year, becoming very familiar with electronic counter measures. After experiencing the work being done at NSW, I applied for and was accepted to become a Tactical Electronics Warfare (TAC-EW) operator at Special Reconnaissance Team 1 (formerly Support Activity 1) in Coronado, CA. While there, I was fortunate enough to serve in Afghanistan with Development Group, in Iraq with SEAL Team 3, and the Philippines with both SEAL Teams 1 and 7. In March of 2013, after twenty-one years, and some convincing from my wife and mentors, I swallowed that bitter-sweet pill and retired as a Chief Petty Officer.
Why did you decide to transition out of the military? I had served in the Navy a little over twenty years and had the opportunity to transition directly into training tactical intelligence operators. For me this was the best opportunity to directly translate fresh experience into a career while creating the opportunity to build a family with my wife and refocus my priorities away from military service while still giving back to the community which had honed that particular skill set.
Why did you choose CTI? John Goodson and I had a connection from our military experience, and he introduced me to CTI and the work being done here. The first thing that really drew me to the company was the interview process. CTI is very discerning when hiring, and I fully appreciate the fact they are not just looking to fill a position. They take great pains in selecting individuals that possess the knowledge and experience required for the position as well as the personality and vision that is in line with CTI and the current team. It was evident very early on that CTI cares as much about employees as it does about their products and invests time, money, and effort into growing their personnel. The retention rate at CTI is a real testament to their dedication. I was also very impressed with how they maintain a growing business while prioritizing getting the right capabilities to the warfighter. Many companies will claim this, but CTI really is walking the walk when it comes to prioritizing the customer over profit.
What are you currently working on at CTI? And how does your past experience in the military contribute to this? I am program manager for a variety of Special Operations Signals Intelligence programs. Although there are facets of program management that are unique to the company, and even the specific position, I left the Navy with many skill sets that have helped me in this role, and as a civilian employee. Of course, leadership skills have helped tremendously in developing relationships with peers and partners, identifying how to help people stay motivated in their work, and developing the resolve to remain calm in a cluster of chaos – all invaluable as a PM. Being comfortable in a very dynamic environment, being able to roll with the ship, also keeps me sane in an environment with ever changing requirements and technological advances. Additionally, simply being able to just keep moving forward, even if very slowly, when presented with obstacles, challenges, or a quagmire has been essential to reaching difficult goals. You just never know when one more push will result in success. Fortunately, I have had a diverse enough career that provided me the opportunity to be gain experience in most aspects of the SIGINT community. I have worked on or with air, ground, sea, and space sensors in my career giving me both a broad view of the intelligence community and a fantastic network of individuals that provide invaluable support and guidance.
From your perspective as a veteran, what is your opinion of CTI's approach using GOTS and open software solutions? Do you think it is or could be impactful to active duty personnel? Why and how?
I absolutely love this business model. Not only does it keep CTI honest, demanding they maintain high quality products to continue to hold and obtain business, it makes the capability available for many more warfighters. Removing the need to purchase a license, a possible recurring cost for units, opens CTI's products up to any unit able to gain access to the repository. This removes the work involved, and risk of denial, of the purchasing process. It also removes the burden of financial commitment, allowing units to shop the best products for their mission set, and making those funds available for other necessities. I think the average American would be very surprised to know how difficult it can be for some units to procure capabilities, and many times this is due to cost. Open sourcing our products is simply the right thing to do to ensure we are increasing capabilities of all the folks that need it, and I love it.